Music Therapy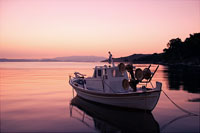 Music Therapy is the clinical and evidence-based use of music interventions to accomplish individual goals within a therapeutic relationship by a credentialed professional who has completed an approved program. Music therapy is an established health profession in which music is used within a therapeutic relationship to address physical, emotional cognitive, and social needs of individuals. Research in music therapy supports its effectiveness in a wide variety of healthcare and educational settings. It is used with people of all ages.
Music Therapy can be designed to address:
Mental health needs
Developmental  and learning disabilities
Alzheimer's disease and other aging related conditions
Substance abuse problems
Eating disorders
Brain injuries
Physical disabilities
Trauma
Prospective and new mothers, but also babies in the incubator
Music Therapy can be applied in settings like schools, prisons, rehabilitation centers e.t.c. as well as in the medical setting like:
Oncology
Pediatrics
Intensive care unit
A session can include:
Songwriting
Listening to songs, and lyric analysis
Improvisation
Music education
Relaxation and breathing techniques

Individual and group sessions are available.
Most important of all: clients do not need to have any prior skill or knowledge of music!